About this website
Elizabeth Jennings CBE: A Poet in search of a Context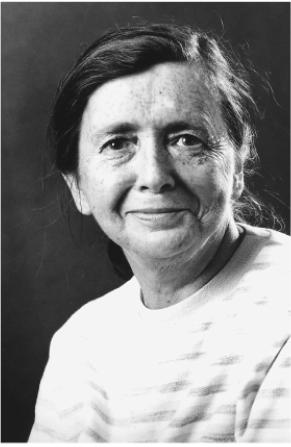 I started my work on Jennings when writing A History of Twentieth Century British Women's Poetry (co-ed. Alice Entwistle, Cambridge University Press, 2006). Working on the postwar sections, we rated her as a significant poet without much critical work, partly due to being poor image material – she was a spinster, openly spiritual, suffered a mental breakdown and in her later years became notorious for her eccentric persona. I had always found her poetry memorable – both puzzlingly personal and yet elusive. I thought some of the poems associated with her mental illness especially moving and I was interested to know more. I discovered that there were lots of unpublished poems and private papers, including an unpublished autobiography, and wondered if these might help inform some critical writing that I felt was overdue and that I might undertake. I believed the papers would illuminate her poetry and give some clues to her personality that somehow evaded the apparently confessional nature of the work. I got the strong support of her editor, Professor Michael Schmidt, her literary agents, David Higham Associates, and the librarians who guarded the main holdings. I was fortunate to be awarded funding from the British Academy and so was able to read the papers and unpublished poems. I was also fortunate to meet with Dr Emma Mason and Dr Rachel Buxton who had also consulted the papers. These contacts strengthened my resolve to get more of Jennings 'out there'. Additionally, I googled Jennings and found many many citations of her poems, but these seemed to be random and sometimes unacknowledged. Thus, my aims for this site are to:
redress the imbalanced image of Jennings' personal persona;
guide scholars to the still evolving literary archives;
invite contributions from living memory to add to archival history;
create dialogue between scholars;
inform and evaluate other digital sources;
bridge academic and general readings
I was heartened and inspired by the summary from the influential progressive critic, Martin Booth:
'Elizabeth Jennings is a quiet poet, one who writes very much from the innermost corners of her privacies. She is not a "great" poet because she shuns publicity: a cruel statement up to a point but one that is valid. Unless poets these days seek out audiences, they reduce their chances of greatness, but what sort of greatness it is, is questionable. Our world demands that the great stand in the spotlight otherwise they are lesser. Elizabeth Jennings is nevertheless great as a poet, but she doesn't look it. Few critical books contain much on her, the public at large does not know of her (to their considerable loss) and she keeps clear of the reading circuit and the poetry machine. Her greatness lies in her work, not her abilities to shout about it.'
(Martin Booth, British Poetry 1964-84: Driving Through the Barricades. London: Routledge and Kegan Paul, 1985: 177- 8)
Furthermore, I realized that her poetry has always and still does SELL and that the academic community needs to recognize this. As the editor of Bloodaxe Books cites in the Stanza Lecture, 2005: 'Poets such as Elizabeth Jennings and Sophie Hannah have out-sold, apart from Les Murray and Edwin Morgan, almost all our other authors quite considerably.' (Michael Schmidt, Poetry London. See https://www.stanzapoetry.org/stanza06_archive/lecture.htm)
Without maintaining a reflective dialogue about Jennings' contribution to the line of English poets, she is in danger of being positioned simply as an occasional poet, seen randomly on such popular websites as 'knowledgerush', 'teachit.co.uk', 'funeralhelper', 'weddingreads', 'answers.com', 'ablemuse.com'. I hope that her poems will continually give inspiration to people at times of sorrow and celebration, I hope that she will always be taught in schools and universities for her poetry lends itself to close reading analysis and stimulates personal response. Additionally, I hope for more intellectual debate about the literary merit of the best poems and her equally prolific critical output.
I have provided one context through a comparison with her contemporary Sylvia Plath, since both poets are called 'confessional' and continue to unsettle the line between the genuine and the constructed utterance. Notoriously, Plath's journals and correspondence have been so severely edited that any quest for 'authenticity' becomes increasingly conflicted. Using Jung's theories of creativity I suggest how personal and literary papers can be in constructive dialogue. See 'Towards a New Confessionalism: Elizabeth Jennings and Sylvia Plath', The Cambridge Companion to Twentieth-Century British and Irish Women's Poetry, ed Dowson. https://www.cambridge.org/us/catalogue/ catalogue.asp?isbn=0521197856
Literary archives and digital technology
'The situation in 2000 is different, for many educators now understand that our inherited archive of materials in libraries and museums will have to be re-edited with information technology (IT) tools' … 'understanding the structure of digital space requires a disciplined aesthetic intelligence'
(jerome mcgann, radiant textuality: literature after the world wide web. New York/Basingstoke: Palgrave, 2001: 2, xi)
The papers of Elizabeth Jennings (1926-2001) lie in diverse university and public library archives in the UK and USA. To raise cash for her livelihood, she sold copies of her books, manuscript draft poems, journals, literary and personal notebooks and correspondence via an agent. For scholars, the quantity and wide distribution of these holdings can be overwhelming. The hundreds of unpublished poems entice a researcher with the elusive importance of material that lies unseen and the burden of what to do with it. Furthermore, in her personal writing and unpublished autobiography, Jennings presents a persona that is as concealing as it is revealing, and that questions the validity of such documents to support biographical readings, let alone other interpretations of her literary publications.
Thus, in addition to guiding interested readers through the poetry and criticism of Elizabeth Jennings, the website is designed to create a discursive space where scholars will consider the poetry and literary papers of Jennings and the relationship between them. I find Jerome McGann's suggestion that digital technology requires 'a disciplined aesthetic intelligence'. Otherwise, it will 'replicate our procedural, as opposed to our reflexive powers and faculties' (McGann, 214). As he points out, the challenges of digital technology in relation to scholarship are to acknowledge that remediating the material is inevitably subjective and maintaining this level of self-reflexivity as useful benchmark for evaluating the use of information technology alongside literary archives. At best, 'tools improve the ways we explore and explain aesthetic works … that is, they expand our interpretational procedures' (McGann: xii) To this end, I have added some reflective commentary on the material as I have presented it, in order to take it beyond simply a cold receptacle of facts. I have tried to acknowledge my own selection and interpretation of her literary career, critical reception and personal writings in order to stimulate ongoing interpretive conversations. I believe that there is material for a biographer and hope that one will emerge. In the meantime, please send me contributions that can be added to the 'Recollections and Tributes' page. I will forward these to the website designer and manager, Dr Nick Hayward.
For more information, see Group for Literary Archives and Manuscripts, North America